We first heard of Bali's SID in 2014, proposed to us by our event partners FYI Entertainment. We successfully brought the band with full permits into Cyberjaya for the CJ Playground concert held at Lim Kok Wing University as a part of the 3-day collaborative effort that welcomed over 1000+ people to Cyberjaya for CJ Tech Talk x FEYST x Doppelganger Open Mic x Cyberfusion video games tourney x Arts for Grabs. Since then, I've been a massive fan of their music, their work, their philosophy.
So imagine our surprise when we read that guitarist Jerinx was hauled up for something he had said in his social media account about COVID-19 testing forced onto pregnant mothers. He was struck with defamation and inciting hate and brought to the Bali police station. But we'll let you make your own mind up about what transpired...
Click here to view the Video on
Instagram.
Text by Doppelgangerkl, interpreted from Indonesian blog Radar Bali:
DENPASAR - Who doesn't not know JRX, front man of Superman Is Dead (SID)? His name is even more recognisable when he makes his opinions heard on COVID-19 .
JRX's zealous discussions on COVID-19 conspiracy theories have brought him to the attention of Bali Police, with two police reports made on his statements.
JRX is currently being questioned as a witness, but what the charges against him have not made him back down.
Every day since June 4, 2020 until now, JRX and his band boys have been generously giving out free rice to the community, to people in need. The reporters from Radar Bali met him on Monday 10 August, and this is what he said...
"Honestly, if asked if I am happy to do something like this (share rice) and get satisfaction? Yes, it is not so. I am honest, doing something like this is tiring.
Not to mention being manipulated by people in the T-shirt business, violating protocols of all kinds, "said JRX.
"I'm really tired. But, if my friends and I don't do this kind of activity, citizens remain hungry, crime is on the rise, casualties are falling, who is responsible?" he continued.
However, a free food sharing program like this is certainly not easy. We need sufficient funds to provide food to the needy in the community. JRX emphatically says, this resulted in an organic movement.
JRX sees Indonesia being too forced to be uniform, in the sense of submitting to World Health Organisation, WHO.
He feels that there are layers of society that are not in line with that. On the one hand, the facts are that many people are going hungry and a hungry society needs to eat not just receive a phone call. Without food, people will not survive.
JRX has an idea to create a shirt that expresses his thinking during this pandemic, while helping people in need of food.
"I finally created the campaign. My friends during the pandemic who became unemployed a lot, right, so I handed over each shirt design to a different friend," he said.
"I am not involved in production or even giving capital. I am only involved in giving ideas and mandates.
I help share the profits towards the free food distribution at Twice Bar in Bali, "he replied.
So it happens organically and if asked the funding from which this free rice distribution activity, is from the people themselves.

(rb / ara / mus / JPR)
Source:
https://radarbali.jawapos.com/read/2020/08/11/208484/tak-main-main-ngaku-capek-jrx-sid-ungkap-rahasia-besar-ke-publik
--

In another report by Independent.ng blog, Jerinx, whose real name is I Gede Ari Astina, was detained last Wednesday for alleged defamation and hate speech, over a social media post deemed insulting by the Balinese chapter of the Indonesian Doctors Association (IDI).
In a post uploaded to his Instagram account @jrxsid on June 13, Jerinx accused IDI of being "flunkeys" to the World Health Organization (WHO). He said that tests to detect COVID-19 are inaccurate and questioned why the association and hospitals in Indonesia are making it a requirement for mothers who are giving birth.
--
Latest news is JRX in court, responding to the judge:
Jerinx: Salah Saya Apa Sih, Apa Saya Berpotensi Membubarkan IDI?
Click here to read more: https://regional.kompas.com/read/2020/09/23/09385681/jerinx-salah-saya-apa-sih-apa-saya-berpotensi-membubarkan-idi.
At time of publish, over 100 Indonesian doctors have lost their lives to Covid-19, we have no doubt the Ikatan Doktor Indonesia is undergoing tremendous stress, and to have to deal with criticism from JRX at this time, may have tipped them over.
--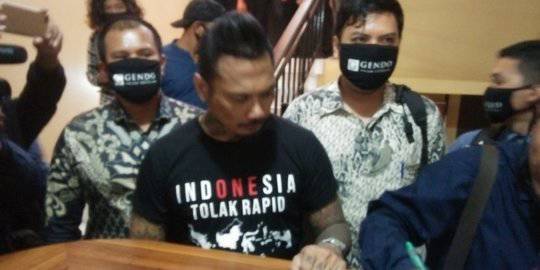 Published 06 Aug from Line Today blog.
Drummer Superman Is Dead (SID) I Gede Ari Astina alias Jerinx apologizes to the Indonesian Medical Association (IDI). He admitted that the apology was a show of empathy for the IDI and that he had no intention of hating IDI.
"I really do apologize to showcase my empathy to IDI friends. Because I wish to reiterate that I do not have hatred, neither do I have intention of destroying or hurting the feelings of friends at IDI," he said at Mapolda Bali, Thursday (6/8).
According to Jerinx, he is only purely criticising the IDI and it isn't a personal hate speech.
"So, this is 100 percent a criticism. Again, I clarify my apology as a form of empathy," he said.
"So, to assert to my friends IDI, that I have no personal purpose. I have no personal purpose for IDI. This is 100 percent criticism. So, please do not respond with feelings," said Jerinx.
Jerinx shared that as a result of his criticism of the IDI, he has been dropped by a sponsor and received hostile threats from many.
"I was abandoned by a sponsor, they have left me. And people are definitely hostile, hostile to some friends and some even outside their circle of friends," said Jerinx, at the Bali Police, Thursday (6/8).
"Yes, there is a report made by the IDI, relating to hate speech and defamation through social media on his instagram account," said Kabid Humas Polda Bali Kombes Syamsi.
Source: https://today.line.me/id/v2/article/Jerinx+SID+Saya+Minta+Maaf+kepada+Kawan+kawan+IDI+sebagai+Bentuk+Empati-e8g9RZ
--
Latest news from online publications including this one from the Jakarta Post, dated 22 September 2020:
(THE JAKARTA POST/ASIA NEWS NETWORK) - A recent survey by Indonesia's Health Ministry has found that many Indonesians do not believe that Covid-19 exists and that many have challenged the call to adhere to health protocols, the national Covid-19 task force has said.
In response, the task force has formed so-called "behavioural change" units. They consist of members of the community, the military and local administrations, and seek to raise public awareness about the dangers of Covid-19.
National Covid-19 task force chief Doni Monardo said the initiative would be tested first in Jakarta,
a hotbed of coronavirus contagion,
before being brought to other regions.
At least five behavioural change units consisting of a total of 100 volunteers have been deployed in five sub-districts of the capital to inform people about the virus and reinforce the need to adhere to health protocols.
"If the initiative works, we will develop it in other regions as well," Lieutenant-General Doni said during a meeting with the House of Representatives on Tuesday (Sept 22).
"Covid-19 is real and has claimed nearly a million of lives globally," Lt-Gen Doni said, but he did not reveal the details of the Health Ministry survey he had cited during the meeting.
Indonesia has recorded nearly 10,000 fatalities
and 252,923 total cases as at Tuesday.
"If some people deny the presence of Covid-19 (and neglect health measures), transmission will continue," Lt-Gen Doni said.
Some Indonesian citizens, including public figures, have endorsed conspiracy theories about the pandemic.
Bali-based musician Jerinx, for example, claimed that the recorded number of COVID-19 infections was being manipulated to be larger than it actually was. He has also ignored authorities' calls for social distancing and mask wearing, including while participating in a rally in late July to protest against COVID-19 testing requirements for travel to Bali. The Bali Police have named the musician a suspect for defamation after he accused the Indonesian Medical Association (IDI) of being "the WHO's flunkey" for mandating that women preparing to give birth be tested for COVID-19.
Source: https://www.thejakartapost.com/news/2020/09/22/covid-19-is-real-govt-says-as-public-denial-persists.html.